Winners announced at School Sports Awards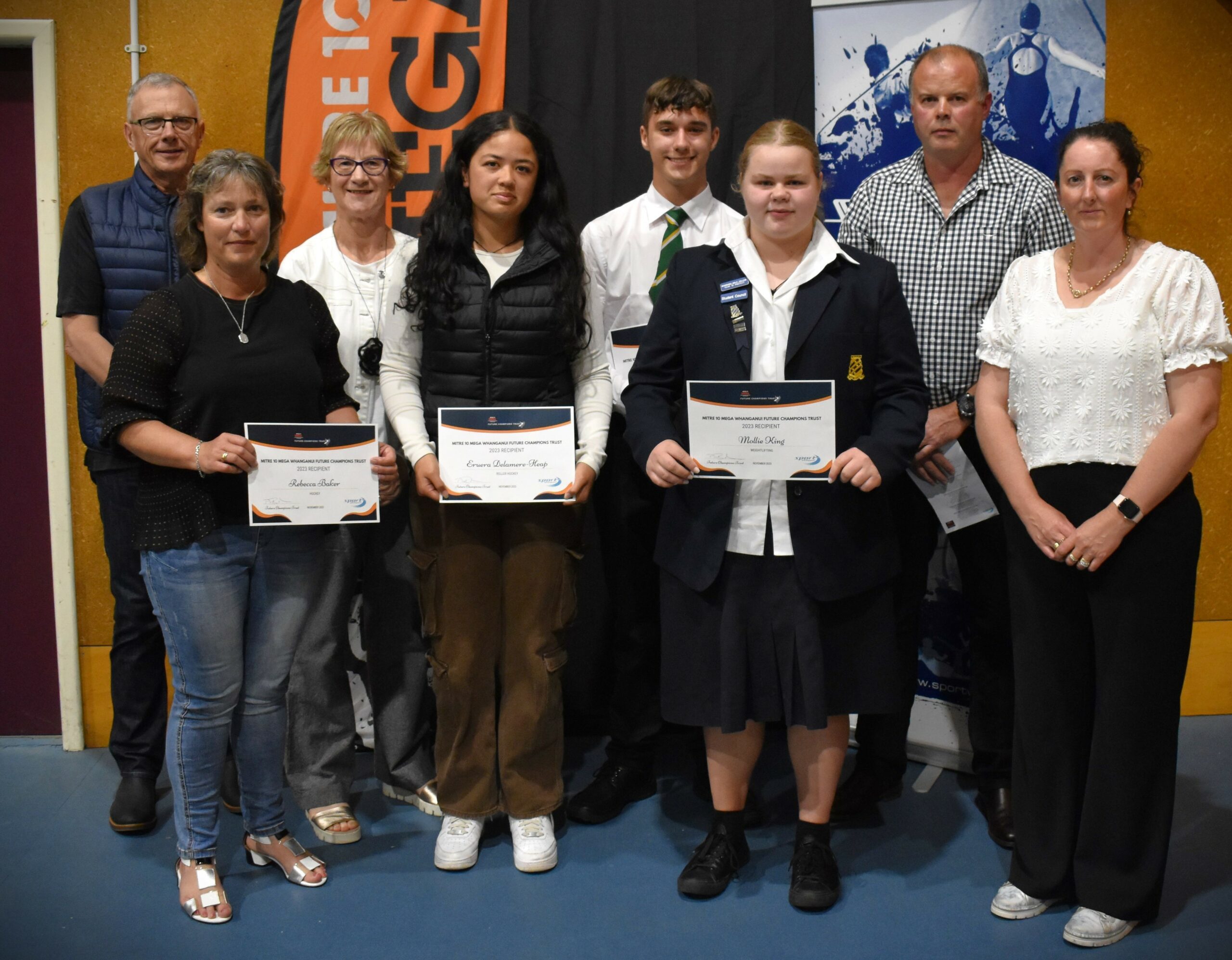 A wide range of talented young sportspeople were celebrated at the 2023 Mitre 10 MEGA Whanganui Secondary School Sports Awards held at Cullinane College on Wednesday, 1 November. View a full list of all the award winners here.
Also announced on the night were the latest recipients of funding from the Mitre 10 MEGA Whanganui Future Champions Trust (pictured).
The prowess of Whanganui's speed skaters on the world stage was evident, with junior international sportswoman and senior international sportsman awards going to Whanganui Girls' College's Gabriella Valentine, and Whanganui High School's Chase Morpeth, respectively.
The junior international sportsman award was shared by Whanganui High School duo Lucas Munn for judo, and Micky Zhang for inline speed skating. Whanganui Collegiate School's Louise Brabyn rounded out the international awards winning senior sportswoman of the year for track and field athletics.
Whanganui High School's Mason Pye was named disabled sportsperson of the year. The coach of the year award went to Ruapehu College's Jayden Bailey.
Water sports dominated the team of the year categories with kayakers Alexis Toy and Zoe Anderson receiving the junior team of the year award and Whanganui Collegiate School Rowing Under 18 Girls Quadruple Scull crew winning the senior award.
In addition to the awards, four future Whanganui champions were presented with grants to support them in their continued sporting endeavours.
The Mitre 10 MEGA Whanganui Future Champions Trust aims to give Whanganui people and businesses an opportunity to support our talented sporting youth with a hand up to reach their full potential at international level.
The recipients for this funding round were:
Mollie King, Weightlifting – Mollie represented NZ at the Youth, Junior, and U23 Oceania weightlifting championships in Samoa, where she won gold in her category and broke three under-15 NZ records.
Eruera Delamere-Heap, Roller Hockey – Eruera was selected as part of the NZ Under 19 men's roller hockey team and attended an invitational tournament in Macau in July. Eruera also recently travelled to China to attend the qualifying tournament for the World Skate Games in Rome, Italy in 2024.
Lucas Munn, Judo – Lucas has been selected to represent New Zealand at the Oceania Judo Union continental open in Perth, Australia in November.
Rebecca Baker, Hockey – Rebecca was selected for the NZ Junior World Cup hockey team and will be travelling to Chile to compete later this month.
The athletes and their representatives were invited to attend the function, where the trust and its supporters acknowledged their achievements to date and wished them well for their future endeavours.
The Mitre 10 Mega Whanganui Future Champions Trust has been operating for more than a decade and has granted over $87,000 to 82 recipients.
Funding rounds are three times a year at the end of February, June, and October. All levels of support are appreciated and interested businesses are also encouraged to contact the trust via www.futurechampionstrust.org.
Photo from L-R: (back row) Future Champions Trustees Stuart Kelly, Philippa Baker-Hogan; recipient Lucas Munn; Trustee Hayden Gibson; (front row) recipient representatives Elaine Baker, Kimiora Delamere-Heap; recipient Mollie King; Trustee Sarah Gibson.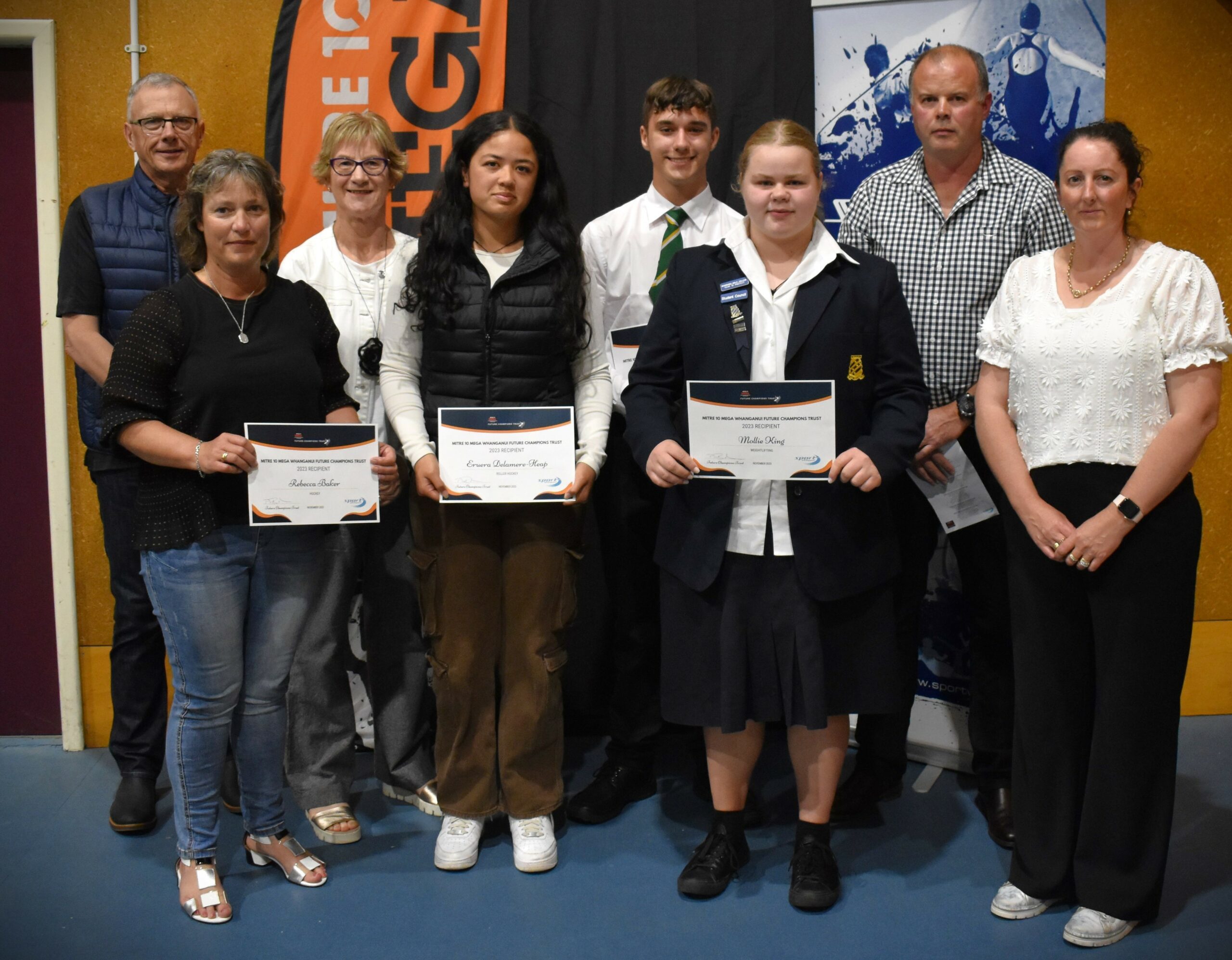 Article posted 1 November 2023 by sportwhanganui