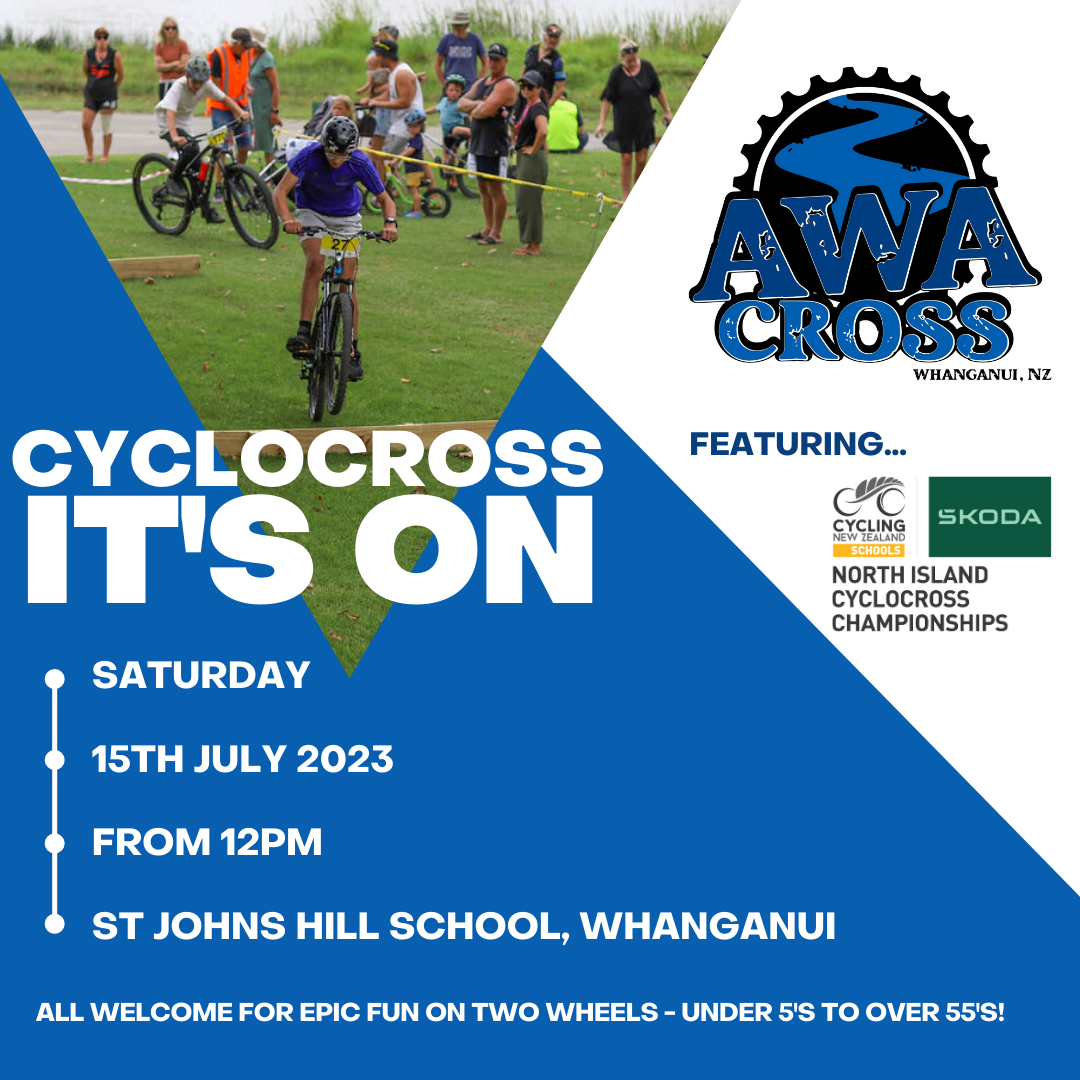 Awa Cross July
Guess who's back…back again?!!
We're stoked to bring our second edition of Awa Cross alongside the North Island Schools Cyclocross Champs…and this time we're giving an opportunity for Under 5's to Over 55's to experience the epic-ness of Cyclocross! Did we mention the inaugural Whanganui Wheelie World Champs?!! 
Date:
Saturday July 15th, 2023
Venue:
St Johns Hill School, Whanganui
Time:
Registration from 12pm, events from 1pm.
Entry Fees:
Kids & Youth : $2
Open: $10
Pay on the day.
Race Pack:
You'll receive your own bike number plate, some goodies to refuel and we'll crank up the barbie too!
Categories/Groups:
Awa CX Under 5 years
Awa CX 5-7 years
Awa CX 8-11 years
Awa CX Open 20+ Competitive & Social
Keen to enter the North Island Schools Cyclocross Champs (School Years 7-13)? Find out more here 
FAQ's
What is Cyclocross?
Cyclocross is a form of bicycle racing which incorporates mixed terrains, different surfaces and obstacles in a short circuit completed multiple times. Riders can dismount and push, lift or even run with their bikes. It tests all aspects of the rider's physiology and with spectators close to the action in a party like atmosphere it is a heap of fun! 
Do I need a special bike to take part?
No, you don't  but your bike will need to fit the equipment requirements outlined above and be suitable to navigate the mixed terrain and different surfaces. We'd love to see you and your bike dressed up (tip: stuff in spokes is not ideal!)…there will be prizes.
Adults…should I enter the Social or Competitive Grade?
If you've ridden CX before and/or like your legs to do the talking we suggest you enter the competitive grades.
If you're a first time CX'er, 'dusting' off the bike, like to dress up or like to 'whoop' the crowd as you navigate the course the social grade is for you.
How long am I riding for?
Each category will ride on the course for a set time, the officials will guide you off the course when your time is up.
How does the start work?
Everyone starts together, in waves, with a minimum of one foot on the ground. The starter will count you down.  Parents are welcome and encouraged to walk/run alongside the Under 5's….and maybe the over 55's 😉
Will I get lost on the course?
Let's hope not…if you end up in Hawera you've taken a wrong turn!  The course will be taped off with marshals stationed around the course and you'll have a chance (weather permitting) to test ride the course.
Cost info:

$2 for Kids & Youth, $10 for Adults