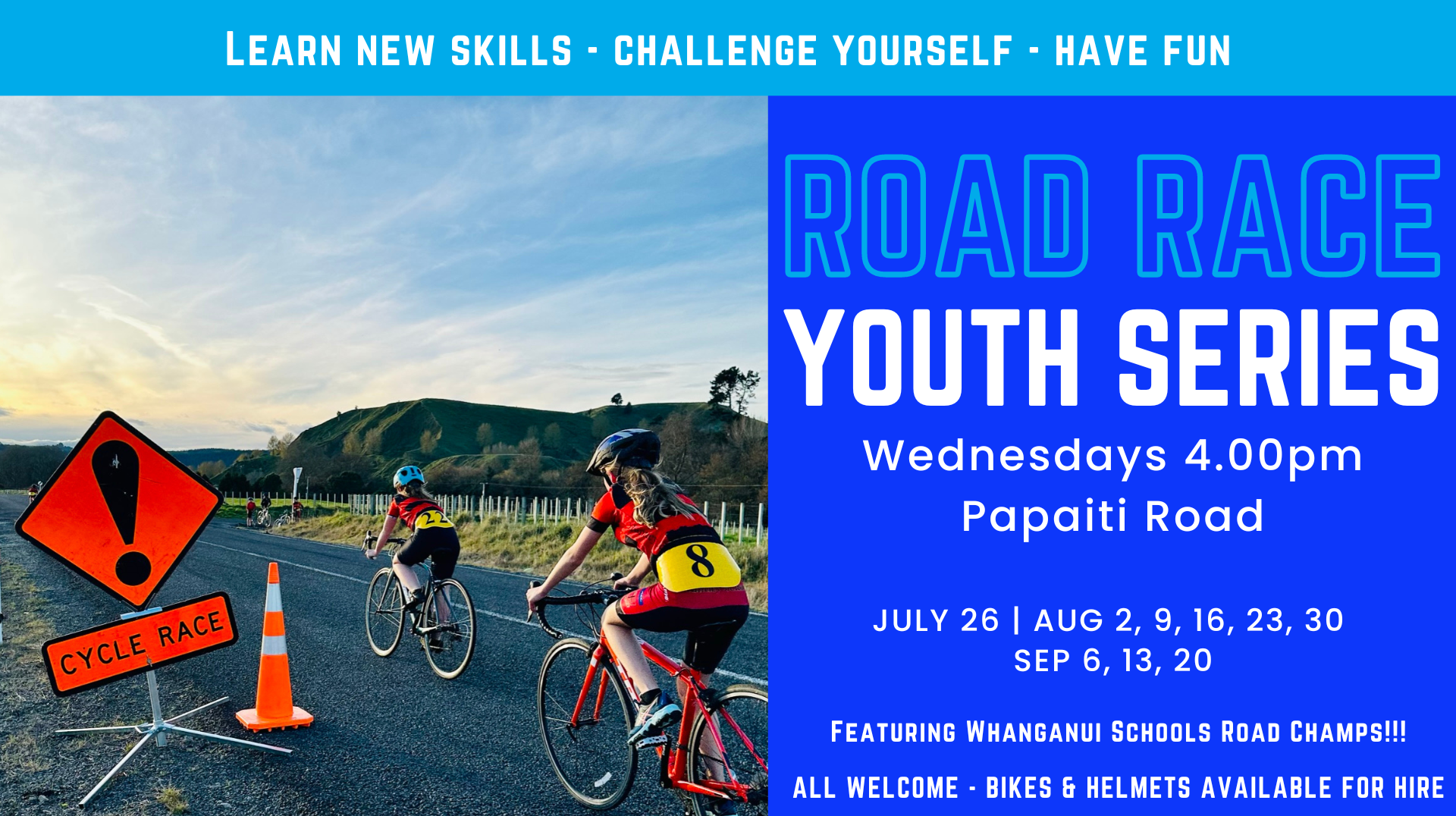 Term 3 Youth Road Cycling Series
2023 Youth Road Cycling Series
Whether you're an experienced Youth Cyclist or keen to have a crack at Road Cycling for the first time this series is a great opportunity to learn new skills, challenge yourself and have fun!
---
Who can take part?
Youth under the age of 20 years. Age Grades U20, U17, U15 & U13.
You'll need to be confident riding on the road, know your road rules and be able to ride at least 8km non-stop.
What do I need to take part?
All you need is a great attitude!
You don't need a road bike to take part, starting on your own bike is a great idea.  We have a fleet of club road bikes available for hire.
How does it work?
9 Race Graded Road Race Series starting opposite the Whanganui River Holiday Park on Wednesdays after School
We'll race out and back along Papaiti Road
There will be a long course (max 20km) & short course (max 8km) options
Varied races to develop your skills and challenge you!
This term includes the inaugural Whanganui Schools Road Champs (more details to follow)
---
Term Three Dates:
July 26
August 2
August 9
August 16
August 23
August 30
September 6  – Whanganui Schools Champs TT – Omnium
September 13 – Whanganui Schools Champs RR – Omnium
September 20
The National Schools Road Champs are being held in Halcombe/Feilding 23 -25 September & we encourage keen riders to take part. We can assist with any queries and provide training, racing & equipment advice.
Event Schedule
3.45pm: Registration Opens (You'll need an adult to sign an event waiver if you haven't registered online)
4.00pm: Registration Closes
4.00pm: Compulsory Race briefing
Racing Starts as soon as the briefing is complete
Post event snack and banter provided. We'll be done and dusted by 5pm!
Entry Fees
$5 per night
Please bring cash on the day or pay into the club bank account using your Surname and "youth" as reference
Wanganui Cycling Club
03 0791 0554164 01
Other Key Stuff
1. Working front and rear lights are expected on your bike.
2. Club Hire bikes are available to use for the term.  The cost is $20. We also have helmets.
3. You only need to register once for the series. It saves heaps of time on the day if you can register online below.
4. You'll keep the same number for the series, please hand your number back at the end of each race.
5. Results and photos will be posted on Facebook and the website each week.
6. Any cancellations due to weather & safety will be posted on Facebook and the website at 12pm each Wednesday.
7. We'll have spot prizes up for grabs each week thanks to Velo Ronny's Bicycle Store and Mitre 10 Mega and we'll also recognise our 'Rider of the Day'.
Any questions, please contact Cath Cheatley cath@cyclesport.co.nz